Luxury Shoes
Luxury shoes designed by Carlos Santos are much more than a quality pair of handcrafted shoes.
When producing some of the best luxury shoes found on the market, we distinguish ourselves by raising the bar higher than putting quality over price.
Luxury shoes are not determined by quality alone.
It is not easy to precisely define luxury. First and foremost, it is a wide concept. And it can also be somewhat subjective. Sure, it means comfort. Ease. Wealth.
But it also means something that can be welcomed or rather helpful. Something pleasurable, elegant.
We give it our best to handcraft pieces that fit all these qualities. We work tirelessly to become synonymous with luxury through research, experimentation, and craftsmanship.
Satisfaction is only felt when unique inspiration carries more weight than common aspiration and the end result is as elegant and exclusive as our customers.
To acquire a pair of luxury shoes for men by Carlos Santos is more than purchasing a quality pair of shoes. We truly hope you become a part of our culture and walk assured of the craftsmanship perfect by our artisans.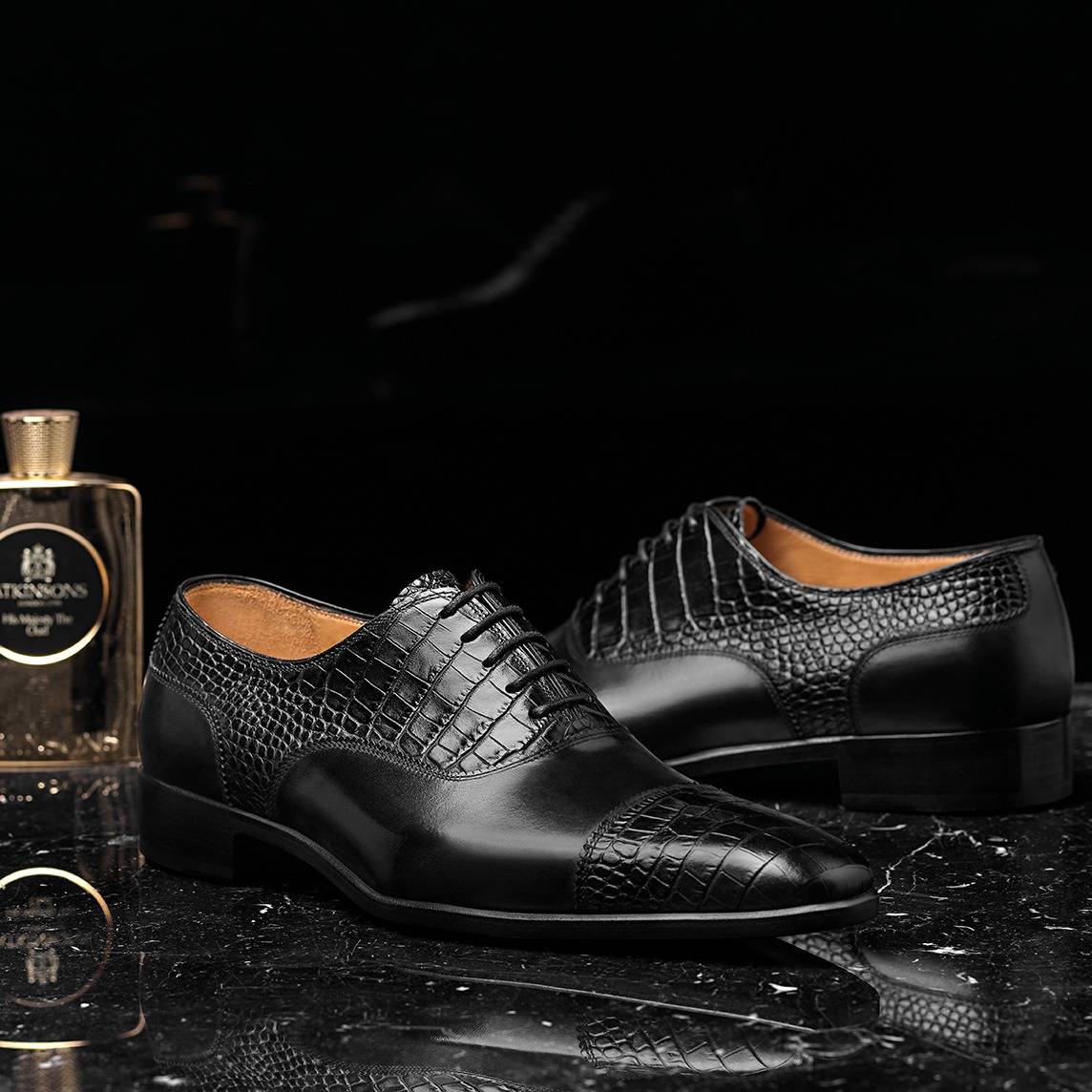 Luxury Shoes for Men
Luxury shoes for men by Carlos Santos combine centuries-old expertise with contemporary design and technological innovation.
The elegance we provide with our luxury shoes for men comes from discoveries made with new methodologies and persistent exploration, both creative and analytical.
We believe luxury shoes to be a statement. A commitment to confidence and time over commonplace trivialities. Handcrafted and tailored for men, Carlos Santos luxury shoes are a sophisticated declaration of an exclusive few.
Handcrafted Luxury Shoes
After all is said and done, these handcrafted luxury shoes are what you will be standing on at the end of the day.
So we work even harder to make them comfortable and durable.
Luxury shoes are a statement, no doubt. But they are also a long-term investment in quality. There can be many reasons to support this. But three are absolutely essential:
Handcrafted Fits Better
How a pair of shoes fit is one of the most important indicators of their quality. If you simply forget to take them off after a long day, that is a sure sign you have acquired a quality pair.
Handcrafted Means it can be Repaired
Carlos Santos handcrafted shoes for men are handcrafted with the utmost quality materials and the finest craftsmanship available. They are more durable and can be repaired to last even longer.
Handcrafted Lasts Longer
Handcrafted shoes can be worn for many years, and even decades if properly cared for. Given the passion with which we handcraft our shoes for men, we have created a beautiful shoe care kit to make sure yours are always at the highest possible level.
Designer Shoes
Designer shoes by Carlos Santos are a sophisticated pair of luxury shoes in which the exclusiveness of the materials shines through the quality of the finishing applied.
We design luxury shoes, boots, loafers, and sneakers.
Luxury boots
Luxury boots for men designed by Carlos Santos are comfortable, practical, versatile and stylish. Traditionally made of leather, boots are chosen for their functionality, and protection from cold, mud, snow, or water.
Ankle boots are one of the most versatile styles available. Chelsea boots are the simpler and straightforward option, but the Chukka boots and other lace-up styles can also prove to be an excellent choice.
Suede boots for men can be easily teamed up with a suit to wear in the office, and the Jodhpur boots have an elegance capable of making other ankle-high boots simply too plain.
Luxury loafers
Carlos Santos luxury loafers are a homage to the authentic classic status the loafers enjoy today, available in timeless colors.
A loafer is a lace-less shoe with an exposed ankle and a seam on top of the vamp. Loafers have a separate sole – unlike moccasins – and often present a low heel.
Luxury Sneakers
Luxury sneakers have been transformed through experimentation into a piece of art.
Full of different aesthetics and shapes, sneakers are a bold choice capable of bringing a certain avant-garde flair or a proper urban vibe to any outfit.
Buy Luxury Shoes
To buy a pair of luxury shoes can be an easy process, especially when you find yourself in good company. Explore our online luxury store and feel free to contact us regarding any questions you may have.
Luxury Shoes Online
In our Shoes for Man section, you can explore all our luxury shoes online, but also the history behind their original model design.